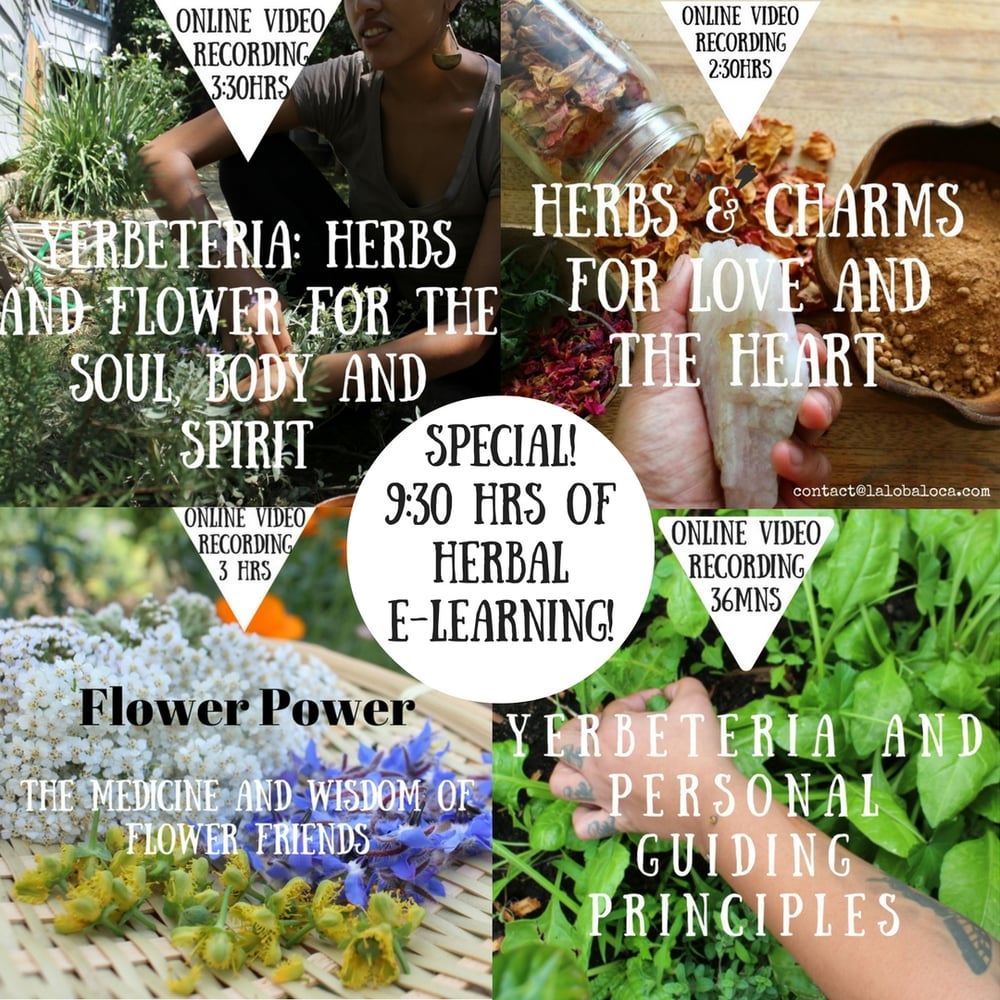 This pack is a 9:30 hrs herbal e-learning experience. Please know that some topics might overlap before purchasing this pack. All shares are different and share specific information but there is a potential of information being repeated. The pack includes:
*YERBETERIA: HERBS AND FLOWER FOR THE SOUL, BODY AND SPIRIT
Some of the topics we will be covering are: introduction to yerbeteria, or Latin American folk herbalism, connecting and learning from plants: plantitas as our teachers, magical and energetic uses of plants and flowers, flower essences, flowers and herbs that help with anxiety, boundaries and nourishment, plants, seeds and flower as revolutionary warriors
*HERBS AND CHARM FOR THE HEART AND LOVE
In this video I briefly touch on: charms, tools and herbs that can support us through finding and recognizing radical self-love and love in every day life, energetically and physically protecting our heart, learning and tasting different herbs for physical and emotional heart health, yerbeteria and connection to plant and flowers, home-made technologies for chest support and health ( chest steams!), making love charms using stems, herbs and seeds
*YERBETERIA AND PERSONAL GUIDING PRINCIPLES
In this video I briefly touch on: defining Yerbeteria, my personal journey, plant connection, Andean Ayni/Exchange in Yerbeteria, staying accountable to plants, environment and community as medicine makers and Yerbeterxs
*FLOWER POWER- THE MEDICINE AND WISDOM OF FLOWER FRIENDS
Some of the topics that we will touch on: importance of flowers for plant reproduction, different medicinal preparations with flowers: smoke blends, infusions and steams, we will focus on easy to grow flowers such as calendula, yarrow, lavender, chamomille and rose, we will talk about flower essences (fe), how they work, ways that I used them, this video includes a short share notes/zine
Note on quality of video: this video was taken using a MAC book pro, this is not a high definition video. The video was taken during a live share so expect awkward silences and moments in which participants are doing hands on work.
These videos have not been captioned yet, I am planning to! When you purchase this video you will receive a link that will allow you to watch it for 3 months. I will be sending you the code from my email, it might take me a couple of hours or a couple of days to get you the link. You will need internet to watch it, the platform I am using is Vimeo.
Purchasing this video DOES NOT mean that you can use it for public showing, include it in your work/academic work/ etc. If you want to publicly show or use any portion of the video contact me to contact@lalobaloca.com
For questions or to learn more about how to bring me to your school and community: contact@lalobaloca.com