Online v-blog: Andean Intergalactic Feminist Medicine
$

38.00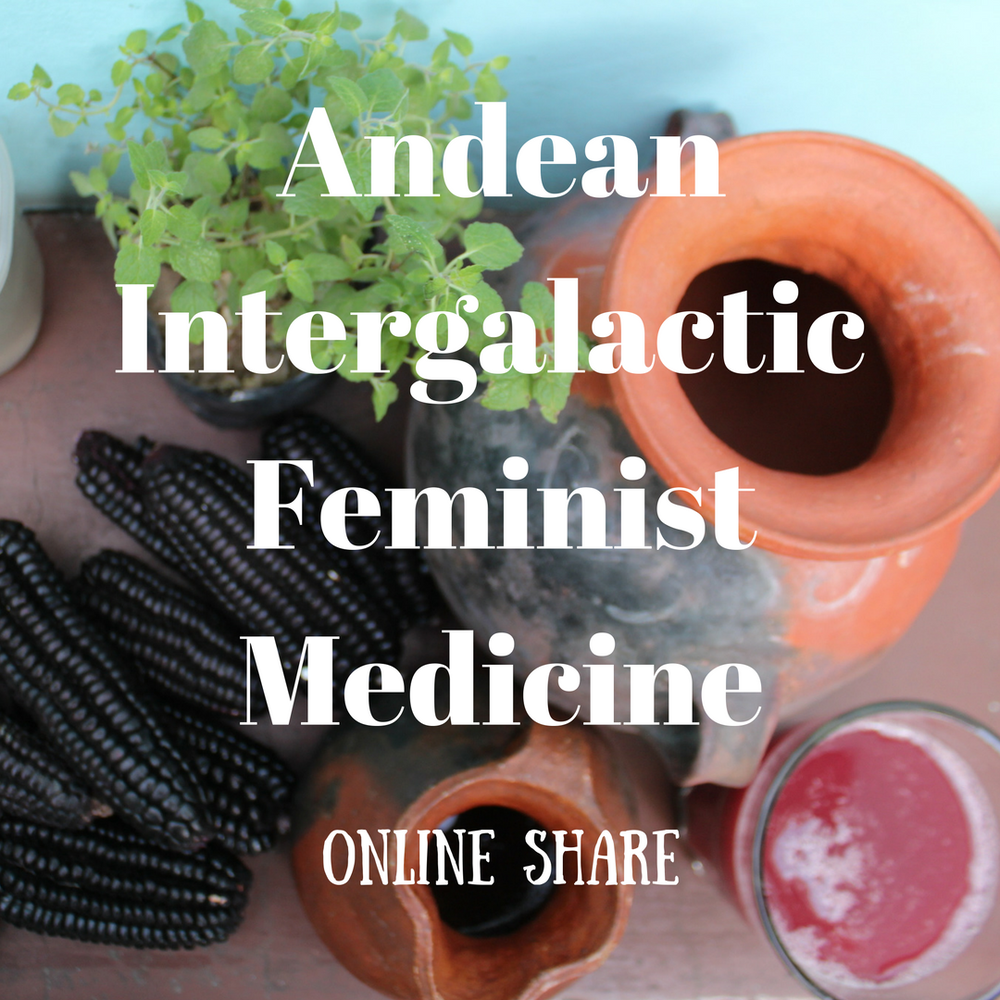 I am called back home this coming October 2016- I will be traveling to Peru and norther Chile. As many of you know my hustle depends on me being able to make medicine, moon pads, ship them and do knowledge shares here in so-called US. In order to continue working while I am back home, I have created a project called ANDEAN INTERGALACTIC FEMINIST MEDICINE which is pretty much a video-blog where I will document medicinal Andean herbs, Andean foods and practices from a re-cabrona Queer Brown Feminist perspective. I will be blogging and sharing resources around the topic, the v-blog will have 2.30hrs-3hrs of material and videos. I will be updating the video blog for about 4 weeks but you will have access to it for 3 months in case you want to go back and check out the material. Blogging will start in mid-October.
This online video blog will contain:
-Four 10-15 minute videos on Andean plant medicine
-Four 10-15 minute videos on Andean cooking and food medicine
-a couple of extra videos here and there possibly on: feminismos, ramblings on racial hierarchy in Arequipa, abortion access in South American, potentially on herbal support for elderly, ramblings on Andean medicine, maybe some quechuañol words, maybe some recipes for delicious foods that include Andean staples, more rambling of an angry Brown Queer going back home and encountering a horrible growing white-supremacist-settler-tourism.
-the video blog will be 4 weeks long but will be available as long as the platform I use is supported
Why Andean? Because I will be in Andean region. I will be reporting from Arequipa, Lima and Iquique, Chile.
Why intergalactic? Because as a migrant person disconnected and connected to home, I feel in between worlds and galaxies sometimes. Home feels galaxies away at times but also only 12 hours on plane.
Why Feminist Medicine? Because medicine making and documenting is a political act of reclaiming knowledge that has been thought as 'wive's tales' or simple 'brujerias'. To me the documentation and reclamation process is a political act and my focus is uplifting an centering knowledge carried and created by womxn, femme and glittery folk.
Questions: contact@lalobaloca.com
Share